| | |
| --- | --- |
| | The Swearing-In Ceremony of William Jefferson Clinton and Albert Gore, Jr. |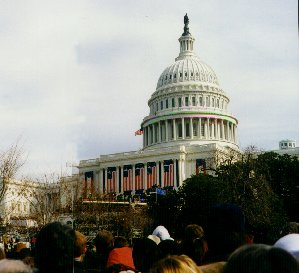 January 20th, 1997 started out as a cold, overcast day. We drove from our western Maryland home to the Shady Grove Metro station, and shuttled into the nation's capital as so many commuters do each workday morning. Our tickets were for the "green" standing area on the south side of the capitol. We arrived at about 9:30 AM, which meant we had two full hours of freezing until the ceremony would get underway. While we were thankful for being given the chance to witness the unfolding of history, we saw that we were not very close to the podium, and staying warm would be a challenge.
Teresa and I did our best to pass the time. We could feel the crowd filling in around us until there was very little standing room left. When the ceremony officially began with the call to order and opening remarks by Sen. John Warner of Virginia, we realized that the acoustics of where we were would prevent us from hearing all of the ceremony. Moreover, the cacophony of all the conversations around us drowned out the prayer given by the aging but ever graceful Billy Graham, the minister to the presidents.
We had the misfortune of standing next to a group of four or five young men who apparently were attending classes at Georgetown University, Bill Clinton's Alma Mater. They seemed to have a quip or wise crack for every event that took place on stage. I thought to myself that things must have been quite different from the time that Bill Clinton was in college. During that phase in his life, when America was experiencing a crisis of confidence due to the Vietnam War, Clinton professed a respect for the nation and its institutions. These students seemed to lack that basic outlook as they mocked and critiqued every aspect of the ceremony. One wondered why they were there: to pay homage to their fellow Hoya, or to criticize the symbol of power he had become.
---
Discussion question:
Is the "could care less" attitude of these young men symbolic of a national malaise characterized by a lowering of expectations and failure to take part in the political system that has been building since the time of the Vietnam and Watergate eras? Or, as Bill Clinton would have us believe, are we in a period of "national renewal" and the lack of respect shown by the Georgetown group is the exception rather than the rule?
---

Program

PRELUDE

                                   

The United States Marine Band,
Lieutenant Colonel Timothy Foley, Director.

The College of William and Mary Choir

Hampton University Choir

CALL TO ORDER
AND WELCOMING REMARKS

                                   

The Honorable John Warner, United States Senator, Virginia
PRELUDE

                                   

The United States Marine Band,
Lieutenant Colonel Timothy Foley, Director.

The College of William and Mary Choir

Hampton University Choir

INVOCATION

                                   

The Reverend Billy Graham
THE PLEDGE OF ALLEGIANCE

                                   

"LET'S BUILD A BRIDGE
ACROSS AMERICA"

                                   

Children of the Gospel:
The Next Generation
Ricky Payton, Sr., Conductor

THE PRESIDENTIAL OATH OF OFFICE
WILL BE ADMINISTERED TO ALBERT GORE, Jr.
BY THE ASSOCIATE JUSTICE OF THE SUPREME COURT OF THE UNITED STATES,
THE HONORABLE RUTH BADER GINSBERG.

"AMERICAN MEDLEY"

                                   

Jessye Norman
INTRODUCTION OF THE PRESIDENT

                                   

The Honorable Wendell H. Ford
United States Senator, Kentucky

THE PRESIDENTIAL OATH OF OFFICE
WILL BE ADMINISTERED TO WILLIAM JEFFERSON CLINTON
BY THE CHIEF JUSTICE OF THE UNITED STATES,
THE HONORABLE WILLIAM H. REHNQUIST.

INAUGURAL ADDRESS

                                   

President of the United States
"BATTLE HYMN OF THE REPUBLIC"

                                   

Immanual Baptist Church Sanctuary
Choir and Orchestra
The Reverend Lynn Madden,
Musical Director
SELECTION

                                   

Miller Williams, Poet
BENEDICTION

                                   

The Reverend Gardner C. Taylor
The NATIONAL ANTHEM

                                   

Santita Jackson and the Resurrection Choir


Proceed To The Inaugural Parade

Proceed To The Inaugural Ball (The DC Ball)

Back To The Main Inaugural Page
---
George Cassutto's Cyberlearning World

[Lesson Plan of the Day] [Cassutto Memorial] [About the Author] [Search] [Civics Lesson Plans]