| | |
| --- | --- |
| ( Photo: George Cassutto) | Frederick County and City, Maryland |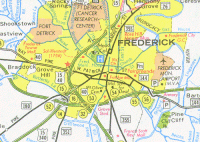 Select the map for a 147 KB close-up. Frederick County lies near the center of Maryland and extends across the State from the Virginia State line and the Potomac River on the South to the Pennsylvania State line on the north. Its western boundary with Washington County follows the crest on the north-south main ridge of the Appalachian Mountains. On the east, it borders Carroll County; and Howard and Montgomery Counties border it on the southwest. Frederick County is the largest county in Maryland with a land area of 664 square miles but only 6 square miles of water. The county lies in both the Appalachian Region and the Piedmont Plateau. A line drawn in a northeast - southwest direction passing through the center of the county separates the county into the two separate regions. The limestone soil makes the land the best farmland in the area.
Frederick County is made up of many different towns. These are Brunswick, Burkittsville, Emmitsburg, Frederick, Middletown, Mount Airy, Myersville, New Market, Rosemont, Thurmont, Walkersville, and Woodsboro. Frederick, followed by Brunswick, is the most populated. The transportation through Frederick County is being improved more and more each day. There are two main lines of railway: The Chessie System and the Maryland and Pennsylvania Railroad Company better known as the "Ma and Pa" Railroad. The main highways are Interstates 70 and 270, and the U.S. 40, 15, and 340. Bus service is offered throughout by the Greyhound Bus Lines and Trailways Bus System. The communications throughout the county are advanced and highly used. There are 27 post offices with a new sectional facility being constructed that will better handle the 300,000 pieces of mail handled daily. The C&P Telephone Company of Maryland, which is part of the Bell System provides telephone service for the entire County. Radio stations located in the county are WFMD, WTHU, WFRE, WTRI, and WZYQ.

A View of the Carroll Creek Project in Frederick's Baker Park.
The bell tower is seen toward the right. (Photo: George Cassutto)

Frederick County is governed by a Board of County Commissioners, which consists of 5 Commissioners elected 4 years. Police protection in Frederick County is provided by the State Police, the County Sheriff's Office, and police departments in the towns of Frederick, Brunswick, Emmitsburg, and Thurmont. Higher Education provided in Frederick County is best found at the Frederick Community College, Hood College, and Mount St. Mary's College.
Frederick is also home to a major military installation: Fort Detrick.
Other Informative Frederick Links Include:
City of Frederick
Tourism Council of Frederick County, MD
Frederick County Government Page
Frederick.com
WesternMaryland.com
The Museum of Civil War Medicine
Frederick Yellow Pages
The Digital County
From Sailor: Maryland's Library Network

---
---
George Cassutto's Cyberlearning World

[Lesson Plan of the Day] [Cassutto Memorial] [About the Author] [Search] [Civics Lesson Plans]