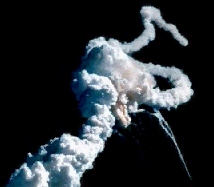 The Challenger Disaster: What Next?
---
Thesis: In the aftermath of the Challenger explosion many improvements were recommended to ensure the safety of future space travel.
After NASA's many successful shuttle missions, the majority of Americans were trusting of the space shuttle program. The launching of Challenger was expected to be yet another highlight in the history of space flight. However, after the disaster many improvements were suggested to ensure the safety of future space travel.
Recommendations for safer space travel included design changes, redefining program manager's responsibilities, and improvement of landing gear. The NASA administrator submitted a report to President Reagan urging certain changes. One of these changes called for the redesign of faulty solid rocket motor joints. There were to be no options for improvement put aside because of schedule or cost. Redefining the program manager's responsibilities meant that program funding and all program work should be placed under the program manager's authority. As for improving landing gear, specific conditions under which landing would occur were determined. Criteria must have been met for tires and brakes.
With the help of these and other recommendations, NASA and the government learned an important lesson concerning complex technology and have improved the space shuttle program drastically.
by: Megan C., Jennifer K., Stacey R.
Links On The Disaster:
Reagan's speech regarding the Challenger Disaster. In this speech, Reagan expressed his remorse at the loss of the seven astronauts, but pledged his support to NASA and the space program.
The Challenger Disaster An overview of the disaster.
---

To AP US History Page
Cyberlearning World: http://www.cyberlearning-world.com
[Lesson Plan of the Day] [Cassutto Memorial] [About the Author] [Search] [Internet Pocket Guide