"CORETTA SCOTT KING"
Coretta S. King was born one of the three children on April 27, 1927. Mrs. King is a native of Heiberger, Alabama. She contributed to the family income by hoeing and picking cotton. She completed her studies at the New England Conservatory of Music in Boston in 1954. After she finished her studies, she moved back south with her husband. Within a year, Rev. King had led the Montgomery bus boycott. Two years later, he was the head of the Southern Christian Leadership Conference (SCLC). In 1964 Mrs. King did some teaching and fund-raising working for SCLC. Mrs. King had four children. Their names were: Yolanda, Martin Luther the third, Dexter Scott ; and Bernice Albertine. On June 19, 1968, two months after her husband's assassination, Coretta made her first speech about her husband memory. Her speech showed people that she can lead as well as her husband. In her speech she call upon American women to "unite and form a solid block of women power" to fight the three evils of racism , poverty, and war. Much of her work revolved around building plans for the creation of Martin Luther King Jr. In 1982, 14 years later after her husband's death, Mrs. King is still an eloquent and much respected spokesperson on behalf of black causes and nonviolent philosophy. Because of Mrs. King's prime examples she taught us black women to be brave and speak our mind in public.
---
"ROSA PARKS"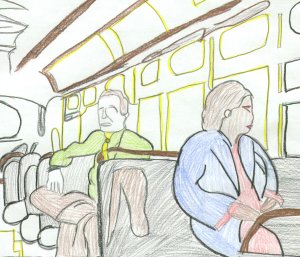 Rosa Parks worked at Montgomery Fair Department. She had just got off of work and was tired. She boarded the bus and sat in the section reserved for white people. As everyone knows, in the segregated south. All blacks were required to sit in the back of the bus. On the evening of December 1, 1955, Rosa Parks was not going to move to the back of the bus because she was too tired. She did not want to move to the back because the white section was not full. Rosa was glad to be able to sit down. She would be home in fifteen minutes, where her husband Raymond Parks was cooking dinner. At the first stop a lot of white people boarded the bus, and the blacks had to move to the back. Rosa refused to move to the back of the bus because she was already tired and did not feel like getting up. On the evening of December 1, Rosa was arrested and taken to jail. She was charged for violating Montgomery's segregation laws. Then everyone knew about Parks arrest and was ready to boycott. Signs were made that evening saying: "Do not ride the bus to work, town, school, or any place Monday Dec. 5." In conclusion Rosa Parks went through a lot to receive her freedom. Until this day Rosa Parks has been a great role model to many young women, because she teaches them to be the best they can be in life. This is a quote Dr. King says about Rosa Parks : "Rosa Parks is the great fuse that led to the modern stride towards freedom."
---
"WHITNEY HOUSTON"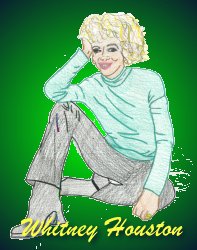 Whitney was born into a musical family,which really helped her a lot with getting into the music business. Her mother was a gospel singer, and back-up artist. Dionne Warwick is her cousin. Whitney sold over 13 million copies of her first album, and launched herself into super stardom overnight. Unfortunately, like all other super stars, she became a tabloid target there were a lot of rumors spread around about her as well as things that were true. True or untrue, all of her personal business was spread by the media into the streets. Some of the things that were said were that she was supposed to be in a lesbian relationship with her personal assistant. All kinds of different things were said by the media about fights and break-ups between her husband Bobby Brown, who she married in 1992. Bobby is sometimes said to be the first, or the original Bad Boy. In 1993 they had a baby girl named Bobby Kristina. Her raise to fame was much easier being in the 90's. It would have been much harder if she was trying to make it big off of her talents a hundred or even seventy years ago. Not saying she has had an easy road to become what she is, but her undying talent has helped her to become one of the greatest living legends in America. She is a role model for all young black women all over the world.

George Cassutto's Cyberlearning World:
http://www.cyberlearning-world.com
[Lesson Plan of the Day] [Cassutto Memorial] [About the Author] [Search] [Civics Lesson Plans]