Review
Martin Luther King, Jr. & The Civil Rights Movement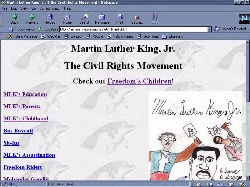 This is a sight done by a 4th grade class in Newton, MA. The main page starts off with a student's picture of Mr. King with a list of links to essays done by some of the students on such topics as Mohandas Ghandi, a leader that used non-violent methods to lead India to independence, Dr. King's Childhood and The Montgomery Bus Boycott. At the bottom of each essay there is usually artwork done by the students reflecting the topic of the essay. If you overlook the 4th grade level of these essays, they provide some accurate information on their featured topic.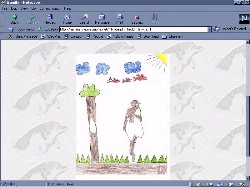 After reading these essays, you can then scroll down and test your King knowledge by clicking the link to the Martin Luther King, Jr. online quiz. Here you will be asked questions such as where Dr. King went to college at and Who organized the first Bus Boycott. These questions are mostly geared toward younger students.
You can then scroll even further down the page to see several links to pages with word searches, word scrambles and fill in the blank worksheets on Ghandi and King.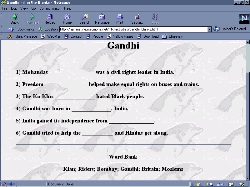 If you are a teacher of a K-8 class learning about Martin Luther King, Jr. or the Civil Rights Movement, you might want to print these out to use as review worksheets for your class.
Altogether I think this sight would be a very good resource for K-8 grade students. The essays provide basic information on their topics and all of the student drawings make the sight fun to surf through. It is definitely worth looking at if you have a few free minutes on the net. Though, I still do not understand why there is dolphin wallpaper.
To The Civil Rights Project Page
To US Government Lessons Plans
---
George Cassutto's Cyberlearning World:
http://www.cyberlearning-world.com
[Lesson Plan of the Day] [Cassutto Memorial] [About the Author] [Search] [Civics Lesson Plans]