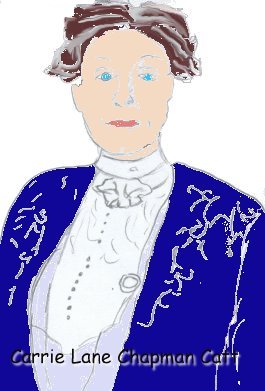 Who would have thought that a woman born on January 9, 1859, in Ripon, Missouri would become a name known across America? This particular woman proved it could happen. Her name is Carrie Lane Chapman Catt. That name should always be remembered because she helped women of all ages become and equal and important part in America.
In 1865, Carrie and her family, moved to Charles City, Iowa. This is where she started her career as making sure women's rights were equal. Some years later, Carrie became the Iowa Women Association's state organizer from 1890 to 1892. Also, in 1890, she married George Catt, her second husband. Her first one was Leo Chapman. (Leo died a year after they were married though.) George supported Carrie through many of her drawn out tasks, even in 1892, when Susan B. Anthony asked her to address the Congress on the proposed suffrage amendment.
Over the next ten years, Carrie joined the National American Women Suffrage Association (NAWSA), and she also helped organize the International Women's Suffrage Association (IWSA) in 1902. Unfortunately, in 1904 George got sick so Carrie resigned from her presidency in the NAWSA to care for him. He died the next year. Then, two years after her husband died, her mother and brother died also.
After all of her losses she survived and went back to work on the IWSA, where she became president of the organization. Finally, in 1915, she returned to America and got back into leadership with NAWSA. After all of the campaigning NAWSA, won the endorsement from the U.S. House and Senate as well as state support. In 1918, President Woodrow Wilson, converted to the cause. With all of the support, it made it possible for the 19th Amendment to be passed, on August 26, 1920.
Even after the Amendment was passed Carrie kept on working on, what she called, "equal suffrage." Her issues broadened too. They were now focused on world peace and child labor.
Carrie Lane Chapman Catt was said to be a terrific lady. She never gave up, no matter what happened around her. This made her the woman that she was. And through her hard work and that of others like her, Carrie died an equal woman, in New Rochelle, New York, on March 9, 1942.


To The Civil Rights Project Page
To US Government Lessons Plans
---
George Cassutto's Cyberlearning World:
http://www.cyberlearning-world.com
[Lesson Plan of the Day] [Cassutto Memorial] [About the Author] [Search] [Civics Lesson Plans]