Evidence of Analytical and Integrative Thinking
Fall Semester, 2004
EDCI 797d - Best Practices in the Content Fields
Learning How To Be an Online Learner
| | |
| --- | --- |
| One of the primary objectives of the Graduate School of Education's Virtual High School program is to train educators to become online mentors who can guide student through their studies successfully. The mentor is that part of the Community of Practice Learning System (COPLS) that guides the online learner thought the course, providing feedback, structure, and motivation. The mentor is the expert in the content field that the learner turns to for clarification in both content and process. The mentor knows the topic intimately, most likely because the mentor was instrumental in developing the course content. | The mentor is the expert in the content field that the learner turns to for clarification in both content and process. The mentor knows the topic intimately, most likely because the mentor was instrumental in developing the course content. |
The participants in the Virtual High School program must learn how to be a mentor for adolescents that will sign on to the Virtual High School. They gain this knowledge by becoming on-line learners themselves. As they move through The Online Academy For Teachers (TOAT), teachers discuss their course content with those classmates who have advanced far enough in the program to be mentors for their colleagues. Teachers make themselves available to chat on-line regarding course content on how to be a mentor to young people. Teachers also respond to course content submitted to them via email forms and direct email. TOAT participants also meet directly with their mentors during class time to coordinate activities and provide mutual support.
The Role of the Mentor in Online Learning
Becoming a mentor is a serious responsibility that requires a high level of self-awareness. In order to help a young person through the challenges of online learning, you have to have your own emotional and academic house in order. You must know how to be a good time budgeter. Self-regulation must be a something you know how to do without question. Most importantly, you must understand what it is like to be an online learner, empathizing and sometime sympathizing with the experiences, challenges, and achievements of the computer-based and Internet-assisted learner. The issues that you face as an educator and as a human being will become evident as you turn to assist those students that have been assigned to you. You must be able to share your time, your experiences, and your ability to communicate with the student dealing with the same issues you faced as an on-line learner in TOAT program.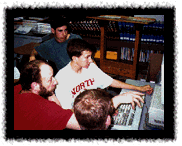 When I arrived at this role as I entered the Virtual High School, I was led to take a scathing personal inventory of my experiences as a twenty-year veteran educator. I have to assess those skills needed to be a successful mentor. How is success measured? We may be assessed by the academic success of the students assigned to us. The traditional classroom teacher is sometimes evaluated based on the grade distribution or the SOL scores of their students. Though this criterion for teacher evaluation may or may not be fair, it still is used nevertheless. The same standards may be applied to the online teacher and their student counterparts. The relationship between the two may be even more relevant than in the traditional classroom because the online environment allows for a greater intimacy and closer connection than is allowed in the context of the traditional brick and mortar classroom.
Linking Learning and Life
The sixth chapter of Mentor discusses this connection between study and life. In this book that acts as our textbook for this course, author Laurent A. Daloz interviews adult students who are making their way through their studies with the help of adult mentors. We see how the personal development of adult learners has a direct impact on the progress they make as adult students. The relevance of their content area to their careers, and the experiences they bring to the table that they have accumulated throughout their lives, determines what level of success they experience in their quest for a sense of purpose and personal accomplishment. Central to the success of the adult student is the role of the mentor, who must make choices on what level of involvement to establish, how to confront negative student behavior, and how to counsel their counterparts for motivation towards success in their studies, in its application in their field, and in their lives in general.
| | |
| --- | --- |
| Physical and mental health, situational depression, one's ability to introspectively assess ones own emotional state and to problem-solve, all have an impact on our functioning as students, as teachers, and as our own ability to be mentors to other online students. | The mentor must be able to understand what is taking place in their life of the student that may not be related to academic life, but those aspects of life have a direct bearing on academic success. As a teacher and as a learner on the TOAT program, my own life experiences have a role to play in how well I function as a graduate student. I am required to complete the course content of the Graduate School program of study, but my own professional and personal lives act as obstacles to completing those requirements. Physical and mental health, situational depression, one's ability to introspectively assess ones own emotional state and to problem-solve, all have an impact on our functioning as students, as teachers, and as our own ability to be mentors to other online students. |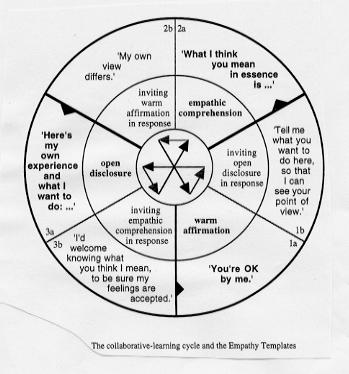 The book Mentor reveals the multidimensional nature of being an adult learner. The author shows how various adults return to the academic and professional world to discover how difficult it is to begin again, to redefine oneself in a new context, and they rely on education's institutional support systems in order to assimilate into society at large. We can see in the many case studies of the book how the mentor must approach interpersonal problems with empathy, how he must ask open-ended questions, and how the mentor must be willing to share personal experiences to shape the student's decision-making processes. In Mentor, one subject of the study is preparing for a career as a psychologist. Through the "benign neglect" of her mentor, she makes the decision to study the lives of the great psychological theorists in order to apply their experiences to their own. Her content field became highly relevant to her own experience. My own profession as Civics teacher may not call me to investigate the lives of great historians or politicians, but as a teacher, I can apply what I have learned in my field as a teacher to to the process of becoming an online learner. I can also apply my studies in the area of curriculum and instruction to how I function as a teacher in the traditional and online classroom environments.
Image courtesy:
http://www.cs.mdx.ac.uk/staffpages/PaulCurzon/TAS/tasdb.htm

Again, as I operated on a number of levels simultaneously, I came to understand the multidimensional nature of my own life. The diagram below illustrate the connections between my professional, academic, personal, and spiritual selves. Each image is a link to another page that provides more information. The hyperlink opens a new window.
The multidimensional selves of George Cassutto
The diagram illustrates all of the forces that impact a person's functioning as a a student. The left side of the image identifies family history and background. As a minister's son and second generation Holocaust survivor, I chose to go into teaching social studies. My mother was also a teacher, and her influence was great in my choice of careers. My job as a Loudoun County teacher is the basis of livelihood for my own family, which consists of my three children. As a single father, the time needed to pursue a second degree comes between periods of time devoted to caring for my kids. Teaching 8th graders is my primary livelihood, but my online experience as a self-made webmaster has led to other opportunities such as curriculum developer for US News and World Report and web designer for PBS and the Discovery Channel. As the Virtual High school opportunity manifested itself, it became necessary to evolve and develop as an educator, as a student, and as an online citizen. I had to abandon the goal of earning a doctoral degree because of the time commitment it would take to achieve. With small children who need their father for positive development, it was not time for me to pursue a doctoral degree. But the second master's degree was possible with the help of the children's parents, co-workers, and friends who were willing to provide the support needed to be successful.
The person who mentors me must get to know these other selves in order to more easily guide the one that is the on-line learner. Time availability, health and financial issues, and challenges relating to my primary career can help that individual guide me toward better decision making. She won't be able to give me secret information on teaching Civics, but she can give me insight into teaching students of Civics. In turn, I will bring my mentor-mentee experience into the virtual classroom, understanding the challenges related to getting motivated, staying on-task, and achieving goals.