The Graduate Manifesto of George Cassutto
I Stand Connected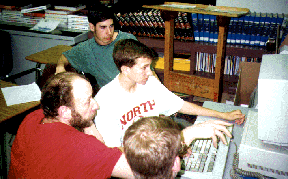 After I met my then fiancée, Teresa, in 1988, I was introduced to the world of computers by my then father-in-law, who brought me his company's old cast offs. First came the text-only green-screen Decision-Mate V (AT & T's attempt at an early word processor). The came the color 8086 processor, followed by the 286, 386, and 486 processor chips. Each machine did a little more in terms of speed and graphics. By 1994, I took the plunge and taught myself Windows 3.1, bravely weaning myself from the security of the DOS prompt. In March of 1994, I had been experimenting with BBS (bulletin-board messaging systems) and had joined a new on-line service called America On-line (DOS version 1.5). Modems at that time operated at a speed of 14.4 kilobytes per second, which seemed very fast compared to the 300 baud modems of earlier generations. One by one, I began to gather stand-alone PCs and placing them in my classroom so that students could engage in simple word processing. I had placed some student essays on a few BBS discussion boards, allowing people from all over the world to review and respond student work. Students in AP History found the process very useful when they prepared for their DBQ (document-based questions).
At about the same time, my best friend Steve, who had graduated from University of Maryland with a B.A. in Computer Science in 1978, showed me how to code pages for the newest medium on the Internet, a graphical user interface (or GUI, pronounced "Gooey"), known as the World Wide Web. He also showed me the basics in graphics editing, and we married the two skills up in his basement as we converted a set of text-only AP student essays into a nascent website.

Maryland's Computer Educator of the Year

The North Hagerstown High School website was born. I was able to get a local internet service provider to donate one account to the school, which is where we gained the web space upon which to mount the first few pages. For the remainder of my tenure at North Hagerstown High, I would strive to bring computing, networking, and the Internet into my classroom and every classroom in the school. The word about the website spread quickly, and during the last half of the 1990s, I was speaking, training, and writing web pages for schools, businesses, and churches all over Maryland. I even published a small pamphlet-like book called Internet Pocket Guide for Teachers. In 1998, I was chosen as Maryland's Computer Educator of the Year by a group of fellow teachers.
| | |
| --- | --- |
| The Internet bubble burst in 2000, so there were fewer opportunities to share the power of the Internet with other establishments inside and outside of education. Moreover, I had a growing family, and the low pay scale of Washington County, Maryland was not sufficient upon which to buy a single-family home. So, on the tip of a friend, I looked into transferring to one of the fastest growing counties and school systems in the region, that of Loudoun County, Virginia. In 2000, I made the move to Loudoun, leaving high school for a middle school slot, leaving PCs for Macs, and commuting about an hour from Frederick. I had to move all of my projects and pages to my own web space. I wanted a place on the Web where student publishing was central to the site, but I also wanted a place where teachers could get lesson plans and ideas for projects free of charge. | I wanted a place on the Web where student publishing was central to the site, but I also wanted a place where teachers could get lesson plans and ideas for projects free of charge. |
So I named the website Cyberlearning-world.com. The website's central focus was that the Web could be a place where students and teachers could learn and teach via computer and Internet technology. Many months of online time were devoted to building the site from existing student projects and transferring data to the new web space so that it would work. I was not aware that in my attempt to survive in a technologically accelerated world, I was losing the connection that had seen me through all those previous changes, that of my wife and family. In October of 2001, I heard the words "I want a divorce."
Change is the only Constant