Topic: Indian Removal


Vocabulary and Identifications
1) Black Hawk War-A leader of Sauk and for of the western terrotory, challanged the removal Jndians from the territory.
2) The Trail of Tears- Cherokee suffered death and starvation when they were forced from their homes.


3) Seminole War- The indian tribe who fought most strongly against removal of the Seminole tribe of Florida.
4) The Cherokee Nation-Exosted,sick,and starving,the last cherokees struggle indantatorie in early 1839.
5) The Election of 1836-they agree onone thing the hatrate of jackson and his politics.

---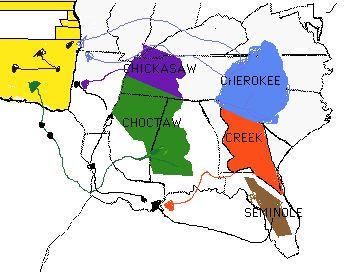 ---
Biographies of Important People
Andrew Jackson: He was the president that organized the Indian Removal Act. He help pass it by trading the indians for their land and the Indian would move to western territory.


1. WHO PROMOTED THE INDIAN REMOVAL ACT?
A. GEORGE Washington B. ABRAHAM Lincoln
C. ANDREW Jackson D. NONE of the ABOVE
2. WHAT PERCENT OF INDIAN HAD TO SPLIT UP?
A. 86% B. 10%
C. 28% D. 25%
3. HOW many people HAD TO MOVE WEST?
A.100000 B.1000
C.2500 D.NONE ABOVE
4. WHAT TRIBES DID NOT WANT TO TRADE THEIR LAND?
A. CHICKASAW B. CHOCTAW
C. SEMINOLE D. ALL ABOVE
5. When was the Indian Remopval Act passed?
A. MAY 28, 1830 B. JUNE 30, 1900
C. MAY 25, 1800 C. MAY 1, 1830
6. THE CHEROKEE EXPERIENCE BECAME KNOWN AS:
A. THE TRAIL OF MOUNTAINS
B. THE TRAIL OF TEARS
C. THE MEN OF RIVERS
D. THE MEN OF TEARS
7. THE FLORIDA INDIANS FOUGHT RESETTLEMENT FOR:
A. ONE YEAR B. TWO YEARS
C. FIVE YEARS D. SEVEN YEARS
8. THE INDIAN REMOVAL ACT AUTHORIZED THE PRESIDENT TO:
A. GRANT INDIAN TRIBES UNSETTLED PRAIRIE LAND
B. TAKE THE LAND FROM THE INDIANS
C. CHARGE THEM $50 AN ACRE
D. TAKE THE INDIAN CHILDREN

9. Who won the supreme court case of 1832?
A. Republican B. Chickasaw
C. Cherokee D. Nobody
10.Who fought for seven years in the second Seminoles war:
A. Florida Indians B. Cherokee Indians
C. Constitution Indians D. Chickasaw Indians


1. C. ANDREW Jackson
2. D. 25%
3. A. 100000
4. D. ALL ABOVE
5. A. MAY 28, 1830
6. B. THE TRAIL OF TEARS
7. D. SEVEN YEARS
8. A. GRANT INDIAN TRIBES UNSETTLED PRAIRIE LAND
9. A. Republican
10. A. Florida Indians




This page is part of a web project developed by Mr. Cassutto's 7th grade US History class at Sterling Middle School
Student authors:
Thao P.
Josh C.
Alex G.
---
George Cassutto's Cyberlearning World
[Lesson Plan of the Day] [Cassutto Memorial] [About the Author] [Search] [Civics Lesson Plans]