The Wedding of Ernest and Elisabeth Cassutto
April 22, 1949
Ernest Cassutto married Elisabeth Rodrigues fifty years ago this year. We celebrate their golden wedding anniversary in their honor. These photographs were given to me, George H. Cassutto, by my late uncle, George H. Cassuto (note the single T in his name), the younger brother of the groom. If any family member or anyone knows anything about the contents of the photographs below or of the subject matter they depict, please e-mail me at georgecassutto@hotmail.com. The background of this page is taken from Elisabeth's engagement journal, which she kept from the time she was engaged until after she and Ernest were married.



| | |
| --- | --- |
| | Here we see Ernest and Elly enter the church before the ceremony. Doesn't she look beautiful? He doesn't look half bad either! Who is the woman helping Elly? Was she Elly's maid/matron of honor? |
| | |
| --- | --- |
| | This image was taken, in all likelihood, after the ceremony. Ernest seems to have the marriage certificate in hand. There is another photo, not yet printed here, of Ernest's father Isaac signing the marriage certificate or a public record book of some kind. |
The bride and groom exit from the ceremony. This image raises the following questions:

Who is the flower girl? How did the bride and groom know her? Where is she now?
Where was the ceremony conducted?
Who officiated at the ceremony?
| | |
| --- | --- |
| | Here we see Ernest and Elly presumably after the ceremony. They look very happy. Ernest is 29 years old in the photo, while his bride would turn eighteen the next day. |
| | |
| --- | --- |
| | Tante Grie and Elly. Does anyone know the year? I am sure you can identify the male figure in the background! Confirm your suspicions with this link. |
The man in the background is our Uncle George, Ernest's brother. He gave these photos to me, among others, before he passed away in 1996.


| | |
| --- | --- |
| | Here we see Ernest and Elly enjoying their first few moments as husband and wife. The rest is history! |
A newly surfaced image of the newlyweds.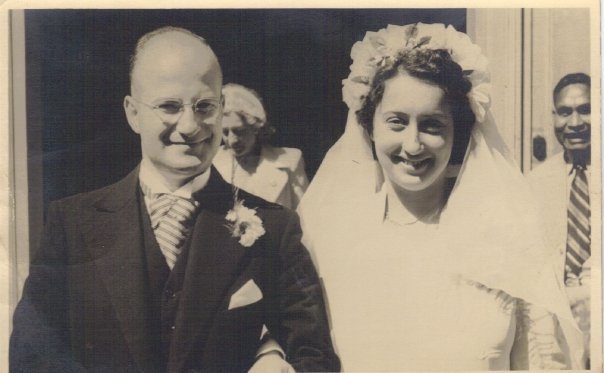 Ernest and Elisabeth Cassutto, 1949.
Note: The background of this page is a scan of Elly's diary, written during her engagement to Ernest.
Comments? E-mail them to George Cassutto at georgecassutto@hotmail.com.

---