| | |
| --- | --- |
| Elisabeth, called Elly by family and friends, was eleven years old in 1942 when she went into hiding with her parents and her older brother Henry. Elly had been attending the Jewish Secondary School in Amsterdam, a development which was the result of full-scale segregation of Dutch Jews in all public accommodations since the start of the Nazi occupation of Holland in 1940. There was another Jewish girl who was attending the same school as Elly. Her name was Anne Frank. The world would come to know her story of courage and kindness through her diary, which was found and published after she died of typhus in Bergen-Belsen in March of 1945. Elly's story is very similar except for the ending. | Elly and her brother Henry around the time of World War II. Click on image for 72 KB JPG close-up. |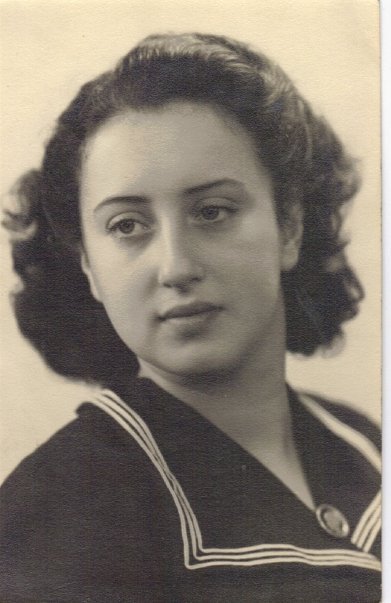 Elisabeth Rodrigues, shortly after the liberation of Holland, ca. 1947.

Elly's Hebrew school report card for the year she went into hiding shows a girl with great potential. The language is Dutch.

Click on picture to enlarge

Click on picture to enlarge

Elly and her brother Henry before the Holocaust. They are in childhood bliss as the picture is dated Mei/May 1937 first in Amselaan and then at the beach in Scheveningen.

Elly Rodrigues. 1941 Notice how she placed her hand on the girl in front of her. Was this one of her best girlfriends? We will never know.
Elly Rodrigues. 1941
at the Portuguese Jewish School of Amsterdam.
Captions by Carolyn Stewart
| | |
| --- | --- |
| By 1943, round-ups, arrests and mass deportations of Jews in Amsterdam has become commonplace. Elly's father, Abraham Rodrigues, made the decision to go into hiding to avoid capture by the Nazi occupiers. Their first hiding place was an attic that they shared with another Jewish family. The Rodrigues family shared this attic of two rooms for eleven months. During their stay here, the children could not move from 8:00 in the morning until 5: 00 in the afternoon for fear of being discovered by passers-by and those who used the building for business. Jews could be turned in to the Gestapo for scarce wartime goods such as bread and cigarettes and money. During the silent time, Elly's mother offered school lessons, and the children played games to keep their minds occupied. It was the goal of the parents to create an atmosphere of normality for the children to the greatest extent possible under these trying conditions. | |
After 5:00, those in hiding had greater freedom of movement within the confines of the attic. The Dutch underground provided periodic updates on the military progress of the war, and also of the state of Dutch society under German occupation. One would hear of neighbors who had been arrested and rumors of mass extermination in the concentration camps.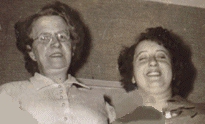 Elly and her foster mother, Grietje "Grace" Bogaarts, ca. 1958.
But at that time, Elly had to take on the identity of an adopted child, which was not unheard of in wartime Holland and other nations where children were sent to the country side for safety. Grace had a plan to completely revise Elly's identity. She would no longer be in hiding, but the old Elly could no longer exist. Grace coached Elly in her new role learning a new name, a new religion, a new personal history.
Abraham made numerous trips to the village to supply Grace with falsified documents to support Elly. In the early months of 1944, Elly's parents had been betrayed and arrested. With Elly vulnerable and no source of support, Grace decided to take Elly into hiding in the Northern coast of Holland. they spent the next six weeks in another attic together, sharing their food, space, and their faith. Months later, Grace was given the word that returning to her own village would calm suspicions and constitute the safest move. So they returned in the fall of 1944. The villagers later revealed that they suspected Elly of being Jewish, but they refused to betray their fellow Dutch citizens and human beings.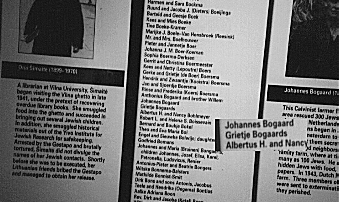 Elly and her brother were able to come out of hiding, but she would never see her parents again. In 1960, the International Red Cross notified Elly that her parents had been gassed in Auschwitz. Grace became Elly's legal guardian at the end of the war in 1945, and they continued a relationship that lasted until her death in 1964. In 1983, when the names for the Wall of the Rescuers were being collected, Elly submitted the name of her foster mother, Grace "Grietje" Bogaarts, to the United States Holocaust Memorial Museum committee as one of the righteous gentiles who protected Europe's Jews during World War II. In 1986, Henry Rodrigues, Elly's brother, sent a letter to Yad Vashem, the Holocaust memorial Museum of the state of Israel, requesting that Grietje Bogaarts, and her sister Aartje Ketel, be included in the list of the "Righteous Gentiles" who had risked their lives to hide and harbor Jews from the Nazis during the occupation of Europe. (Henry Rodrigues' letter to Yad Vashem can be viewed here in part in PDF format).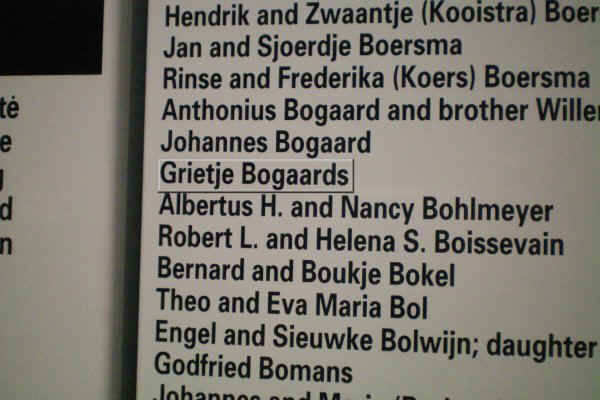 Another view of the Wall of the Rescuers, USHMM
Click to enlarge.

My first daughter was named after "Grace" Bogaards, demonstrated the best God-given traits of human nature. When I see Grace, I see the miracle of life that was given to my mother through her namesake, Grace "Grietje" Bogaarts.)
The story, of course, does not end here. To find out how Elisabeth met Ernest, read the epilogue. But first, learn about the experiences of Elly's husband, Ernest H. Cassutto.
---
Pages and images by George Cassutto © 1994-2008
Reproduction prohibited without permission.