Grace "Grietje" Bogaards and Elisabeth Rodrigues, ca. 1946
Possibly an official photograph after Grace took parental guardianship over Elly.
Mouse over to see colorized version (enhancement by Grace Cassutto)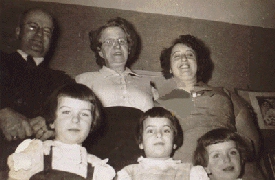 Ernest and Elly met at a conference of Jewish Christians in 1948. They had joined a small group of young Jewish people who had become Christians by faith but who wanted to retain and maintain their Jewish religious and cultural identity. Ernest shared with Elly the loss of his fiancée, Hetty. After they became engaged, Elly suggested that their first daughter be named in the memory of Hetty. Ernest and Elly Cassutto were married on April 22, 1949, one day before Elly's eighteenth birthday.

Ernest's family survived the war intact. Elly's brother also survived, but their parents did not. Ernest became an ordained minister of the Dutch Reformed Church shortly after the wedding. The family immigrated to the United States in 1952 just before the birth of their first set of twins. Another set of twins was born in 1960. Ernest's was appointed missionary to the Jewish population of New Jersey by his church. Later in 1968, Ernest would be asked by the Presbyterian Church (USA) to become the pastor of Emmanuel Hebrew Christian Congregation outside Baltimore, Maryland. It was there that he made his home until retiring in 1979.



Ernest Cassutto preaching in Baltimore,
around 1968.





Elisabeth "Elly" Cassutto
Graduating from college, 1977.

Elly was a full time mom and supportive minister's wife. She decided to use her talent for languages, and became a teacher for the Carroll County Schools in 1978.

Ernest H. Cassutto died of a syndrome similar to Alzheimer's disease in March of 1985 at age 65. His wife died almost a year earlier, on May 5, 1984 of a brain tumor at age 53. Elly died on the 44th anniversary of the liberation of Holland. It is only speculation that the causes of their deaths were related to exposures or experiences connected to the years of the Holocaust.
It is hoped that you, the reader, can get a sense of the courage, faith, and kindness of these two individuals, and also of those who chose to hide, aid, and comfort the persecuted within their midst. It was the example set by my parents and their protectors that instilled in me a love for learning, a respect for history, and a faith in God. I hope their story can help spread the message of their ministry, which was love have compassion for each other, to have faith during the worst of times, and to forgive even most terrible wrongs. Toward those ends, these pages have been developed so that their memory will live on.
George Cassutto
georgecassutto@hotmail.com
Teacher of Social Studies

A Short List of Holocaust and Survivor Resources
---
---
---
---
Many thanks to Hetty Cassutto Haden and Albert Rodrigues for helping to turn the personal photographic record of my family into the historical record of surviving the Holocaust. Thanks to Calvin Haden, Matt Pierce, Eric Seiler for their artistic and digitizing capabilities.
---
---
---
---
---

Social Studies teachers: locate Holocaust teaching materials at

Pages and images by George Cassutto © 1994-1999
Reproduction prohibited without permission.