The Hagerstown Media: Radio
---
The staff at WQCM-FM were very gracious in letting us tour their facility. The station was in the middle of its morning show when we arrived. The AM studio looks like this. WHAG is the AM version of the station, and those are also the call letters of the local TV station for Hagerstown, an NBC affiliate.
WQCM-FM plays all sorts of rock music, from "classic" Rock to "modern" Rock, and it's all up to the disc jockies on duty at the time. They also must play a number of commercials for advertisers, who pay the station to play their ads. This is how the staff gets paid and how the station pays its bills. While we were there, Alanis Morrisette's Ironic could be heard over the Public Address system.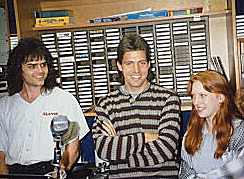 The morning jocks are led by David W. Miller (left) pictured here with Doug, his partner, and one of our students, Angela. David enjoys helping out young people as he is involved in many charities through his work at WQCM. He also gave of his on-air time to talk to us. One of our students, Andy B., was interviewed live on the air! When asked what he wanted to do with the rest of his life, Andy replied: "Live it!"

---

The Hagerstown Bookbinding and Printing Page

To The Interdisciplinary Units Page
---
George Cassutto's Cyberlearning World

[Lesson Plan of the Day] [Cassutto Memorial] [About the Author] [Search] [Civics Lesson Plans]