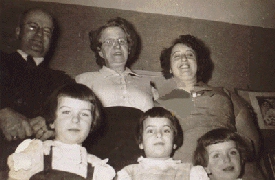 Ernest and Elly met at a conference of Jewish Christians in 1948. They had joined a small group of young Jewish people who had become Christians by faith but who wanted to retain and maintain their Jewish religious and cultural identity. Ernest shared with Elly the loss of his fiancée, Hetty. After they became engaged, Elly suggested that their first daughter be named in the memory of Hetty. Ernest and Elly Cassutto were married on April 22, 1949, one day before Elly's eighteenth birthday.

It is hoped that you, the reader, can get a sense of the courage, faith, and kindness of these two individuals, and also of those who chose to hide, aid, and comfort the persecuted within their midst. It was the example set by my parents and their protectors that instilled in me a love for learning, a respect for history, and a faith in God. I hope their story can help spread the message of their ministry, which was love have compassion for each other, to have faith during the worst of times, and to forgive even most terrible wrongs. Toward those ends, these pages have been developed so that their memory will live on.
George Cassutto
georgecassutto@hotmail.com
Teacher of Social Studies

A Short List of Holocaust and Survivor Resources
---
---
---
---
Many thanks to Hetty Cassutto Haden and Albert Rodrigues for helping to turn the personal photographic record of my family into the historical record of surviving the Holocaust. Thanks to Calvin Haden, Matt Pierce, Eric Seiler for their artistic and digitizing capabilities.
---
---
---
---
---

Social Studies teachers: locate Holocaust teaching materials at
Pages and images by George Cassutto © 1994-1999
Reproduction prohibited without permission.