:::Famous*American*Feminists:::
Gloria Steinem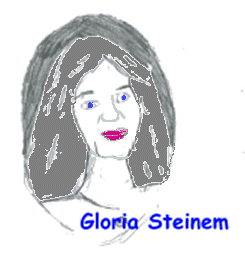 Gloria Steinem is one of the most prestigious women's rights activists to date. Her road to feminism started in Toledo, Ohio in 1934. She grew up there and eventually made it to Smith University where she became engaged and pregnant by her Junior year. Not willing to live the everyday life, she broke off her engagement. After she found that she was pregnant, she chose to have an abortion. At this time, such a decision was not accepted as part of American society, so she spent the next two years of her life studying in India.
When Gloria came back to the United States she moved to New York where she became a freelance writer, writing articles in magazines such as Glamour and for the New York Times. She was very open to writing about her own experiences including her abortion.
During the 1960's, Gloria became a major spokeswoman for women's rights, and in 1971 she helped to organize the Women's Political Caucus. In the very same year, she co-founded MS Magazine where she served as editor. In 1972 she founded the MS Foundation which raises funds for underprivileged women and children.
During the 1980s and the 1990s, Gloria has continued her pursuit of equal rights for all women by writing two books; Outrageous Acts And Everyday Rebellions (1983) and Revolution From Within (1993).
Gloria Steinem has inspired activism among women and has given many the courage to stand up for their rights and beliefs without shame or fear.
Sources Used:
-Encyclopedia.com
-LifetimeTV.com

To The Civil Rights Project Page
To US Government Lessons Plans
---
George Cassutto's Cyberlearning World

[Lesson Plan of the Day] [Cassutto Memorial] [About the Author] [Search] [Civics Lesson Plans]