Rosa Parks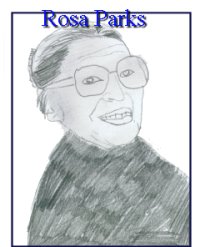 Rosa Parks is most known for not moving to the back of a segregated Montgomery bus when she was told to. There is more to Rosa than most people know. She was born in 1913 and she grew up in racial segregation. She attended Montgomery School for Girls in Montgomery, she gained many friends. Some of her friends were even white. Blacks being friends with white people was very uncommon in these days.
In 1932 Rosa married Raymond Parker. Rosa was very close with her new husband but somehow found time to participate with the NAACP youth council in 1943. She tried to put a say in and tell people how she felt racial segregation and how she thought that it should be stopped.. Many people knew her for her trying to help fight racial segregation. She felt that it was not right and something should be done about it.
On December first 1955 Rosa got on the front seat of a bus and she sat directly behind the white section. She was exhausted from work so she decided that she would not move all the way to the back of the bus. When Rosa was asked to move, she refused and stayed right in her seat. She was immediately taken to police headquarters. As soon as people found out about this they started a bus boycott. This stopped most people from riding the busses. When the bus stations began to loose their money, they decided that they had to let blacks and white ride the busses. The boycott was a really big part of racial segregation. When Rosa went to court because of her actions, the court ruled "segregation of the Montgomery busses was illegal and officially desegregated them on December 20,1956."
Rosa won many awards for her courage and help in fighting racial segregation. She won the honorary degree at Shaw College in Detroit. In 1979, she won the NAACP Springarn Award and the Annual Freedom Award by SCLC (Southern Christian Leadership Conference). Then in 1980 she was awarded the Martin Luther King Nonviolent Peace Prize. In 1984 she won the Eleanor Roosevelt Woman of Courage award and then in 1988 she founded the Rosa and Raymond Parks Institute for Self Development. She has won all of these awards due to the fact that she would not move to the back of the bus just because she was black.
In 1994, while sitting in her home in Detroit, Rosa was beaten and robbed. After her long recovery, she still remained active in African American issues. Later in October of 1995, Rosa participated in the Million Man March in Washington DC where she gave an inspirational speech on all of the issues involved in the African American lives and the lives how all the blacks and whites are now living together. The Detroit News noted "Civil Rights leaders and marketing experts fear the products cheapen Parks' image and legacy as the Mother of the Civil Rights movement."
Rosa Parks died on October 24, 2005 at the age of 92 in Detroit, Michigan. She was honored by being the first woman and second non-governmental person to lie in state in the Capitol Rotunda. Read more about it.
Internet resources:
Rosa Parks: Time's 100 Most Influential People
Image Gallery From CNN: Rosa Parks (A new window will open)

To The Civil Rights Project Page
To US Government Lessons Plans
---
George Cassutto's Cyberlearning World

[Lesson Plan of the Day] [Cassutto Memorial] [About the Author] [Search] [Civics Lesson Plans]