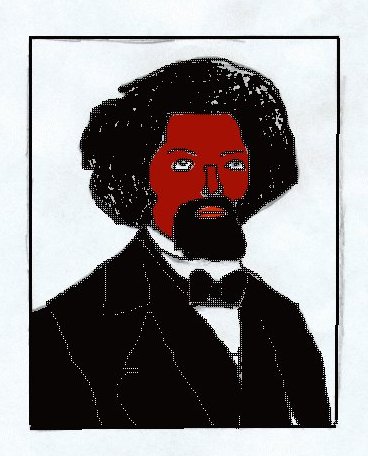 Frederick Douglass was born into slavery in 1817. A Tuckahoe, Maryland native, his mother, Harriet Bailey, called him "little Valentine". This caused him to later adopt February 14 as his birthday. Douglass knew little about his mother and even less about his father who is said to be Aaron Anthony, a white slave master.
In 1825 Frederick was sent to Baltimore to be a servant to Hugh and Sophia Auld. While there he learned a few skills of reading and writing secretly taught to him by Mrs. Auld. His time in Baltimore came to a halt in 1832 when he was sent back to the harsh Tuckahoe plantation. Four years later Frederick was sent to a slave breaker, who beat and severely overworked him. After being deemed a "bad slave" for his failed escape efforts from the plantation life at Tuckahoe, Frederick was later sent back to Baltimore where he met a free black woman named Anna Murray. Knowing Anna heightened his goal of attaining freedom, since the level of encouragement and love that she showed to him was so outstanding. On September 3, 1838, Douglass managed his way to New York by wearing a sailor's uniform and fake identification papers. There Frederick changed his surname from Bailey to Douglass and married Anna Murray.
Douglass began attending Anti-Slavery meetings and in the presence of some of the most prominent Abolitionists (a person who wished to do away with a custom), was asked to speak. He took the opportunity to tell his story and was urged to become an Anti-Slavery lecturer.
In 1845, Douglass published a narrative account of his slave life called Narrative of the Life of Frederick Douglass. Realizing his freedom could be in jeopardy, Douglass fled to England and remained for two years.
With the aid of friends, Douglass returned to his home country, assured his freedom, and opened a newspaper called "The North Star". He worked as an editor writing "Those who profess to favor freedom and yet deprecate agitation, are men who want crops without plowing up the ground." As an editor is stated his opinions, attacked slavery and responded to the Slave Act of 1850, which was part of the group of laws referred to as the "Compromise of 1850." This compromise gained the admission of California as a free state and prohibited slave trading in the District of Columbia. In 1855 Douglass published an autobiography, "My Bondage and My Freedom."
Douglass' belief in "moral suasion" became less and less appealing to him and instead, he focused his attention on the Jim Crow Laws. He donated his time to the fugitive slaves by turning his printing shop into an Underground Railroad Station.
Douglass became involved with Abolitionist John Brown, intrigued by his goal to end slavery. Although Douglass turned down an offer to assist in John's plan to overthrow the government, his involvement was enough to warrant for his arrest. Douglass again had to flee, though this time to Canada.
After returning to the U.S. Douglass was appointed to the territorial legislature of Washington, D.C in 1871. In 1875, Frederick Douglass died at his home in Washington, D.C.
Frederick Douglass became one of the finest became one of the finest advocates of anti-slavery and bravest champions of human rights in his time. Well into his elderly years Frederick continued to work for the government, serving as the U.S. representative to Haiti and went so far as to advise President Lincoln during the Civil War. Even today, long after his death Frederick Douglass continues to educate the world and show them that all human beings are created equal, no matter what their color.