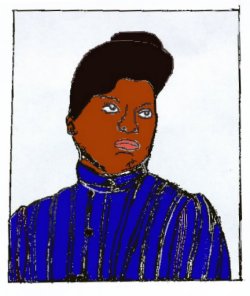 Ida Bell Wells was born in Holly Springs, Mississippi on July 6, 1862. Both of her parents were slaves. Ida attended Rust University for freed slaves. At age 14, she lost both her parents by malaria and had to support her five brothers and sisters. She lied about her age to become a teacher around Memphis, Tennessee. While still teaching, Ida began an anti-lynching campaign. Lynching means to execute, usually by hanging, without due process by law. In the South, many such lynchings were directed against innocent black citizens. The campaign helped expose such killings and to establish laws against it.
Ida also began writing for the Free Speech. In 1887, Ida brought a suit against the Memphis railroad because of their actions of telling her to go and sit in a smoking car. Ida won the suit, but later the state court overruled the decision of the Circuit Court. She also criticized the inadequate black schools. She lost her teaching position because her writings upset many people. Ida wrote many articles about her friends' lynching in 1892. She also wrote articles urging black people to boycott the new streetcar line.
In the same year, her newspaper office was destroyed by a mob while she was visiting Philadelphia and New York. As a result Ida moved to New York and became a reporter for the New York Age newspaper.
In 1895, Ida married a lawyer and newspaper owner in Chicago, IL, named Ferdinand Barnett. They used his newspaper to fight for equal rights. The sheriff in Springfield, Illinois was fired after Ida protested against the lynching taking place there. Later, she co-founded the NAACP, the National Association for the Advancement of Colored people, and fought for women's right to vote.
Ida Wells-Barnett died on March 5, 1931.
Ida Wells represents the will blacks demonstrated to achieve equal rights during the period after the Civil War. She set a great example not just for blacks but for all Americans who believe that democracy must include equality for all races and for both genders.



To The Civil Rights Project Page
To US Government Lessons Plans
---
George Cassutto's Cyberlearning World:
http://www.cyberlearning-world.com
[Lesson Plan of the Day] [Cassutto Memorial] [About the Author] [Search] [Civics Lesson Plans]