Friday, July 13, 2007

I began writing this journal under the working title "Basketball Diaries" because basketball was the central focus of my fitness activities. My goal was to remain fit by achieving a certain level of basketball "success," though that level remained undefined for the most part. I have come to the conclusion that success in any fitness field is relative to two things: 1) the goals you have set for yourself, and 2) the level of proficiency of the people you play with. In other words, success may all too often be measured by how well you perform when compared with your peers. Instead, goal-setting should be established based on where you are in your athletic development at any given time. Once you have achieved that higher level, it is time to set the bar even higher and establish a new level of performance for yourself. In the area of weight loss, dropping those last five stubborn pounds, dissolving that final inch from the abdomen, or just maintaining at a good body mass index (BMI) may be all that you need to achieve a reasonable fitness.


At the beach, 2007

I took my kids to Bethany Beach from Sunday, July 8 to Wednesday, July 11. Being able to bare myself without embarrassment at the beach was my most recent fitness goal. I wanted to drop my body weight from 181 to 175 before leaving, but I simply maintained my weight. So, in essence, I did not achieve that goal. But I also did not gain weight, so I was successful there. With improvements in the level of weight training in which I was engaged, I can actually say I came out ahead, leaving for the beach in a more fit condition than before.

Another fitness goal I had dealing with my trip to the beach concerned playing basketball on the court in Bethany Beach township. It seems there is a steady flow of vacationers who get up before the sun gets too strong to play a set of pickup games on the court next to the church just up from the main square. These guys play a little differently: counting a basket as one point, playing to 12 (or 24 if you count by 2-point baskets), switching baskets at six points. They also have no 3-point shot due to the slightly smaller size of the court. These games are somewhat faster paced than what I am used to at school, and there is more of a "street-ball" feel to it, with guys who don't really know each other sometimes getting more physical than a crew that might have more familiarity and camaraderie among them. My goal: keep up with them.
On Monday, I got on to the court early, about 6:40. I practiced until 8:00 AM, when guys slowly came on to the court. The heat was already becoming brutal, so I was able to last two games before reaching the danger point. I continued to hydrate myself throughout the morning, but I knew I should not push it after that. These games were full court because we had four-on-four and then five per team. My team was led by a young tattooed guy who claimed to have led his team to successive state championships, and given his percentage and skill level, I believed him. I was content with my single basket at the end of the day.
Tuesday brought more guys on to the court earlier, so we got three full games in. We lost #1, but won #2 and #3. I pulled off a basket on an offensive rebound and finally generated enough nerve to drive to the basket. I also hooked one in on a drive to the "weak" side, a shot that surprised even me. Bethany's hoops are the outdoor kind, and you generally do not get a roll as the ball bounces around the hoop and against a metal backboard with no center square. I call these baskets "unforgiving." If you don't go easy off the backboard or straight into the cylinder, you generally won't get the basket. So scoring was an achievement for me.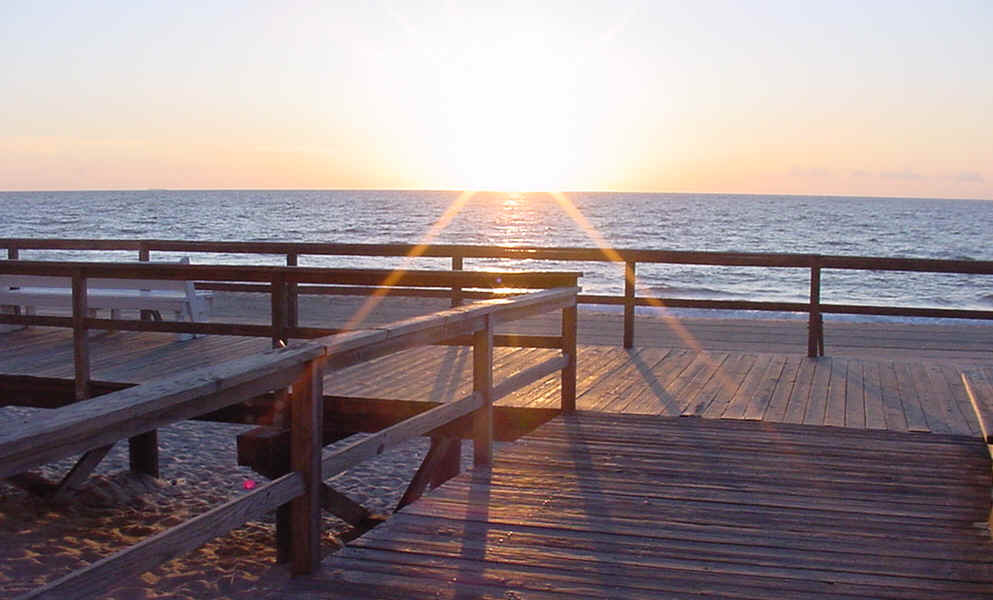 Wednesday seemed to be a day off for most of the players. We did get enough for two-on-two half court. I was on the same team as a guy who later told me he had Parkinson's disease, and except for a little stiffness, I couldn't tell. He hit most of his shots, called out picks and screens like an expert, and knew when to dish and when to drive. We lost, but we put up a good fight. There was no shame in our effort.
I knew I had to get into the weight room after getting home. I lifted on Thursday, but felt a slight loss of strength level due to having laid off the weights for the duration of the vacation. My regular crew was back in action today at school, but we only had enough for three on two. I felt like I had come back from "basketball camp" because I put some of the skills from my time at the beach into use on the court today. We'll see if the same skill level will be evident on Monday when, I hope, we have enough players to go full court at school.

Stay healthy,
George

geocas@aol.com or georgecassutto@hotmail.com