Working Out on Labor Day

Monday, September 3 , 2007
I had the day to myself, a thing about which I have mixed emotions. My kids have moved back to their mom's for the school year after spending the summer with me. Mom gets the kids on Labor Day, so it's up to me to make the best of it. One of my fitness goals was to be thinner, fitter, and lighter by the time school was back in session. Well, here we are -- one day away from the 2007-2008 school year. Since it was a beautiful day weather-wise, I was determined to take advantage of the good conditions and make some last-minute headway towards that goal. My weight level has reached a plateau at 181, so it would be great to get dressed tomorrow after seeing 179 or 178 on the scale. 175 was the goal, but it may not be realistic. I always tell myself that muscle weighs more than fat, so if I have been doing well in the weight room and if the scale hasn't changed upwards, then I can take comfort in the fact that I haven't actually gained body fat. The scale read 179 this morning, and after an hour of basketball practice, it even went one pound lighter (a loss of water weight, no doubt, but I still like seeing the numbers go down).

I started out the day keeping breakfast light: two turkey sausages as a protein source and a PB & J sandwich on wheat. Then I hit the court (in my driveway). In practice, I try to replicate game scenarios so that I can be mentally and physically ready for anything on the court. The hard thing to replicate is receiving a pass. Bouncing it off a wall or tree might work. The idea is to catch it cleanly and get into position for the shot quickly. The term I had to learn here was to "square up," to face the basket squarely, then take the shot with a good follow-through with the wrist, keeping the elbow directly under the ball and fingers spread evenly. If I can turn these cognitive thoughts into automatic muscle memory, I'd have a better chance of making the shot in the game.

Every kind of shot gets some attention. Driving to the basket is one of my weakest skills, partly because I succumb to the intimidation factor of driving through a forest of guys waiting to foul me in the paint. I hear in my head one of my co-player tell a younger one "attack the basket-- take it to the hole!" That's got to be a skill I learn, especially since no one expects me to try it. Finishing the lay-up is another skill to master. I practice "using the glass" -- giving the ball a slight bounce off the backboard with the right angle. Finally, I try shooting the three-pointer, keeping in mind the proper form. My percentage is improving, but at game time, following the shot is critical. I hear my mental coach: "you're the one who knows best where it's going! Follow your shot!"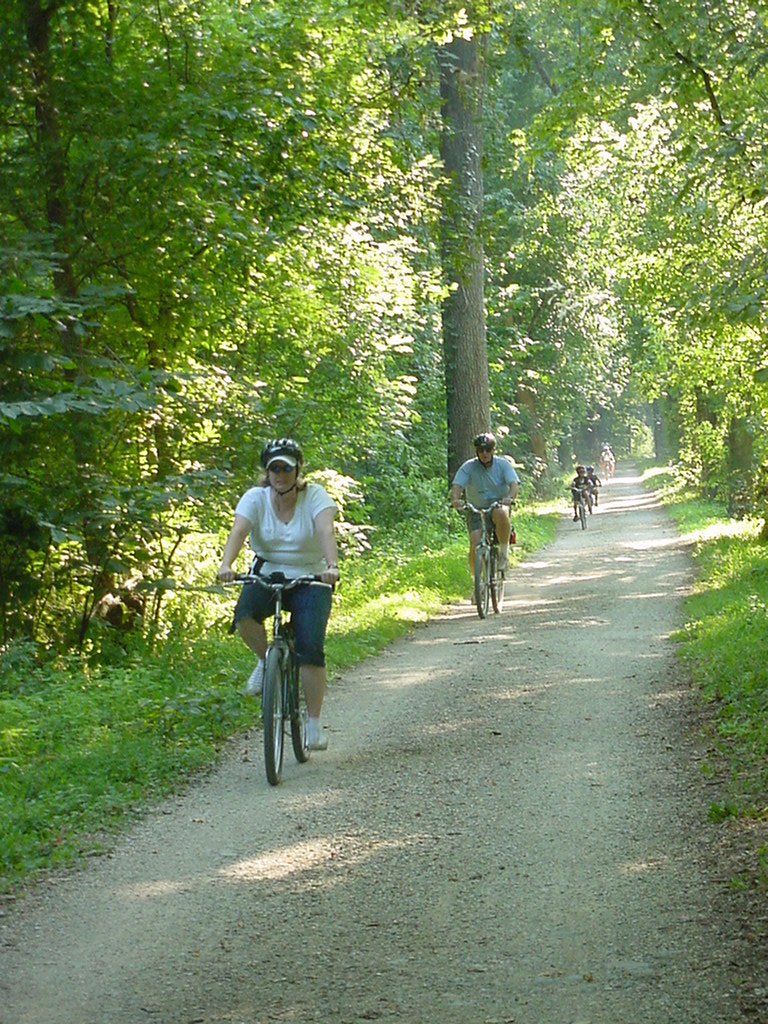 After doing some chores, I get motivated for workout #2: a hike on the Appalachian Trail along the Potomac River on the C & O Canal. I decided to hike from the Weverton Lockhouse between Brunswick and Harper's Ferry to the Rt. 340 bridge, about two miles away. That way, my entire effort will be about four miles in one hour. I put in one full hour of fast-paced hiking, but the canal is pretty flat, which is why it's very popular with bicyclists and runners. Still, it's late afternoon, and I am still able to work up a pretty good sweat after just a few minutes on the trail. I want to put some good cardio minutes on the clock to burn fat, but also give my quads and hamstring muscles some attention. By the time I get back to the car, I can feel it.
I have posted some pictures of my hike along the C & O Canal. Click on the image to enlarge it. A new window will open.
Left: Bikers on the Canal
My final workout of the day took place from 8:00 to 9:00 PM in my weight room. It had been two days since I had put in a good lifting session, so I took advantage of the cool temperatures and free time. My goal was to get through the entire regimen in one hour instead of the 75 minutes it usually takes for me to do the full three sets and some additional exercises I usually add in. I read that testosterone levels begin to fall after one full hour in the weight room, so I decided the faster pace will keep up the cardio level while adding muscle mass. I wanted to keep the weight as heavy as possible to maintain added muscle mass. In the past two or three months, I made the conscious decision to add weight to my sets, even if it meant lower repetitions. This formula leads to size and strength rather than a toned, leaner look. Here's where my workout stands at this moment:
| | | |
| --- | --- | --- |
| Exercise | Weight | Repetitions |
| Warm-Up | | |
| Dumbbell curls | 10 lb each | 12 |
| Military Press | 10 lb each | 12 |
| Pectoral Fly on stability ball | 10 lb each | 12 |
| Triceps press on stability ball | 10 lb each | 12 |
| Set 2 | | |
| Dumbbell curls | 25 lbs | 10 |
| Military Press | 25 lbs | 10 |
| Pectoral Fly on stability ball | 30 lbs | 12 |
| Triceps press on stability ball | 30 lbs | 12 |
| Set 3 | | |
| Dumbbell curls | 30 lbs | 5 (2 sets each) |
| Military Press | 30 lbs | 10 |
| Pectoral Fly on bench | 40 lbs | 10 |
| Triceps press on bench | 40 lbs | 10 |
| Additional Sets | | |
| Standing upright row | 50 lbs | 12 |
| Squat-jerk-military press | 50 lbs | 8 |
| Lat Pull down | 105 lbs and 115 lbs | 12, then 10 |
| Bent-over Row | 40 lbs | 10 |
| Weighted crunch on stability ball | 20, then 30 | 30 |
| Cable Weighted crunch | 50 | 15 |
The exercises under "additional sets" are sprinkled throughout the workout to provide rest for one muscle set while the other gets attention.

I followed the workout with a calorie-filled whey protein shake. I am a peanut butter fanatic, so tonight's smoothie was a true reward for all the effort. Here's my recipe for tonight, which was one of my best:

2 cups vanilla soy protein milk or fat free skim milk.
2 scoops of vanilla whey protein.
1/2 cup Peanut Butter Light Ice Cream (or vanilla, whatever you have on hand)
5 or 6 ice cubes.
1 tablespoon natural peanut butter.

Mix in blender whey and milk first to eliminate clumps.
Add ice. Chop until smooth in blender.
Add ice cream, then peanut butter.

It's better to use the natural peanut butter rather than the processed stuff. Check the ingredients. You can get generic supermarket peanut butter that says "Ingredients: peanuts." It's better than the name brand stuff that has partially-hydrogenated vegetable oil and other stuff that will clog your arteries. Peanut butter has great "good fats," the monounsaturated ones, which actually help your heart, and it's full of magnesium, which also has a positive effect on bones and muscles.

Well, it's time to get some good rest, which lowers cortisol levels and reduces abdominal fat. I'll be on the basketball court tomorrow morning, so send me positive thoughts. Maybe I'll score a few baskets, with your help.

Stay healthy,
George
geocas@aol.com or georgecassutto@hotmail.com