Saturday, July 28 , 2007
My friend John at Thurmont Vista

I met my friend John in Frederick today after the wedding ceremony of another friend (my oldest daughter's first grade teacher), and we went to the Catoctin Mountain State Park in the northern part of Frederick County, Maryland. The President was at nearby Camp David for the weekend, so much of the park was closed off to visitors. We had been talking about getting together for a hike over the past few months, but only now did our schedules coincide so we could pull it off. The weather was hot with the threat of thunderstorms, but we were willing to risk it.

I stopped in at the Visitor's Center to learn about the President's visit and the park closures. But they did not have any affect on our plans. Standing next to two very attractive female hikers, I listened intently to the ranger who described a moderately challenging day hike to the ladies. John and I set out before them with a good initial pace, but we felt the climb upwards pretty soon after beginning our ascent. We decided to take a circular route past Thurmont Vista, Wolf Rock, and finally to Chimney Rock. From there, we'd snake along Route 77 and make our way 4.5 miles later to our car at the Visitor's Center.

Click on an image to enlarge in a new window.
The order from the park superintendent
closing a large section due to the presence of
George W. Bush at Camp David
The area of the park off limits to visitors and the region we hiked (the lighter shaded area). Our destination overlooks are listed and marked with a red dot.
We could feel the stress of the hike up the mountain as soon as we started out. I could feel the effort in my hamstring muscles. which don't get enough attention in my strength training sessions. I also confessed to John that I need to do more stretching before exercising, which is something upon which I need to improve. The upwards climb also put us into cardio mode, but things got easier as the trail leveled out. Our total distance ended up being about 4.5 miles in about three hours. We made several stops, one of which was to give John a chance to attend to a bee sting injury. He handled it well, icing the stung area on his ankle, placing a bandage on it and finishing the last third of the hike. Our main goal was to visit Chimney Rock, which looks like this:
Click on images to enlarge.
A new window will open.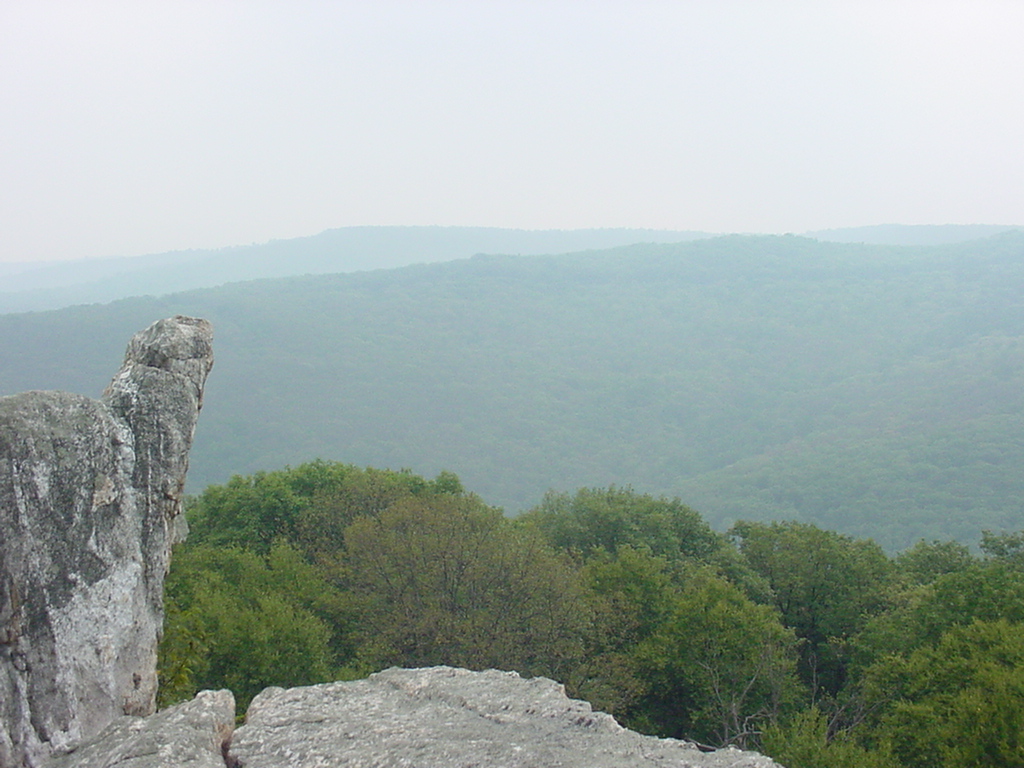 Chimney Rock, Catoctin Mountain State Park, near Thurmont, MD
The hike was great, so we are hoping to plan another one soon. Maryland, Pennsylvania, and Virginia are great states for hikers. We're looking for a challenging one like the one we did two years ago at Old Rag in the Shenandoah National Park.
The terrain there requires upper body strength as well in what is called a rock scramble.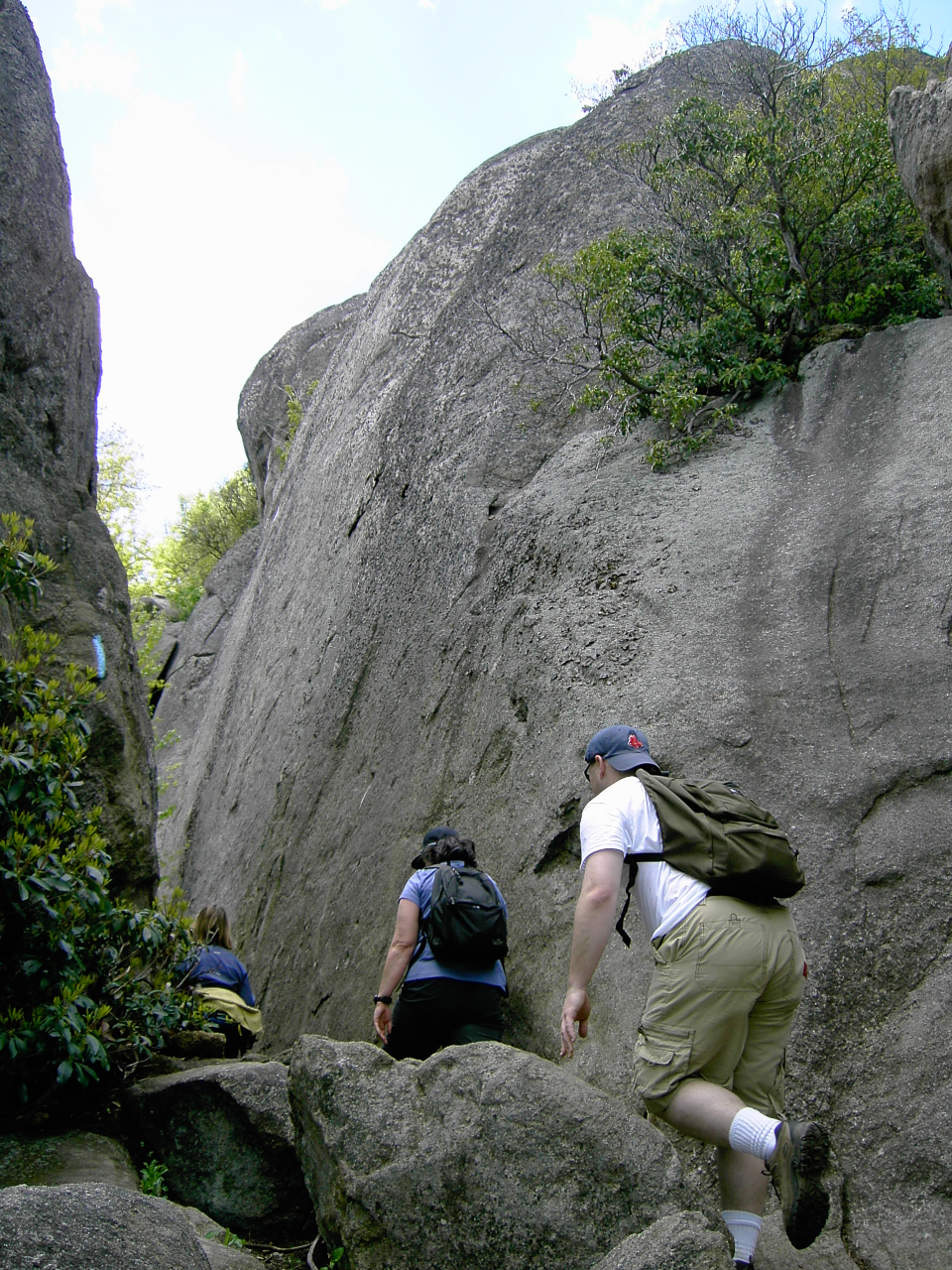 At Old Rag in 2005

Stay healthy,
George
geocas@aol.com or georgecassutto@hotmail.com