The Graduate Manifesto of George Cassutto
The Missing Piece
All of these technical methods require a certain learning curve on both student and teacher sides. Students must learn the basics of using the World Wide Web, Microsoft Office products, and other learning tools such as Inspiration. The one area that students are not required to develop their skills is in web design. Students could use Front Page or Macromedia Dreamweaver to create their own web sites that reflect student learning, but the Virtual High School program does not ask students to learn the basics of web page construction. If students were given these skills at the outset, they would have another way to communicate not just with their mentors, but also with the academic world at large. Such access would allow other teachers and students to access student work and respond to it. Reviews of student projects would not be used for evaluating student work, but rather, it would be shared with students to increase their understanding of the topic and give them varied cultural and social perspectives otherwise unattainable in conversations with their mentor. These perspectives are especially valuable when dealing with issues in history or political science.
How could student publishing be incorporated in to the Virtual High School model?
Students working independently at home or in facilities separate from traditional brick-and-mortar schools must obtain basic technical skills in order to navigate through the Virtual High School environment. Their newfound learning skills must include:
Word processing using Microsoft Word
Creating PowerPoint presentations
Developing original graphical elements in Fireworks or another graphics editor (I prefer Paint Shop Pro by jasc.com)
Creating flow charts in Inspiration software.
In the Virtual High School program, teachers acting as course developers use Macromedia Dreamweaver to create on-line course content. Dreamweaver easily communicates between the developer's desktop and the server where documents will be placed. Microsoft's Front Page also allows students to create web pages in a WYSIWYG ("what-you-see-is-what-you get") environment where they do not necessarily need to know how to manipulate HTML code. In fact, the Front Page interface is very similar to that of MS Word. If students can learn the basics of Word to communicate with their mentors, then they can learn the fundamentals of Front Page, which is a component of the MS Office suite. Even if students could not afford access to Front Page, they can develop web pages in a WYSIWYG interface using Netscape's Composer, which is free.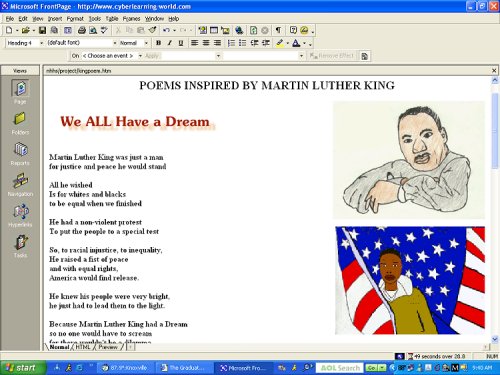 Screen Capture of MS Front Page Interface with Student Project
Click on the image or link to enlarge
Page accessible at http://www.cyberlearning-world.com/nhhs/project/kingpoem.htm
On-line learners can be given basic web design tutorials through on-line modules as well. In 1998, one of my own students developed a tutorial for a Computer Applications class I was teaching at North Hagerstown High School. You can access his tutorial here.
| | |
| --- | --- |
| Students in the Virtual High School program could be trained to use Dreamweaver when developing their own websites. Using Dreamweaver as a web design tool for students would make up one additional medium by which on-line learners can communicate with their mentors. Their pages could remain password protected for security and privacy purposes, or their pages could be made public for general consumption by the academic community. Creating web projects is an excellent application of the constructivist approach to teaching because it allows students to conduct research, discover basic information about a topic, synthesize a new product on that topic, and place their views on issues in a public forum. The entire process addresses the steps outlined in Bloom's taxonomy, and could be used as one of the activities that make up COPLS activity called "the challenge." | Creating web projects... addresses the steps outlined in Bloom's taxonomy, and could be used as one of the activities that make up COPLS activity called "the challenge." |