I have been very pleased with recent developments regarding weight and fitness. Cutting back on evening calories and maintaining both weightlifting and cardio regimens has resulted in a loss of about 7-8 pounds with increased muscle mass and tone. Sadly, my genetics don't allow for muscle growth even when challenging them in the gym, but the higher level of weight being lifted has kept up metabolism and led to a higher level of fitness.
I decided to break out of the standard program that I had developed for myself and followed for six years. My body was getting used to the pattern of full-body workouts where I would alternate muscle groups within one workout. In addition, I may have been sabotaging some of my own gains in muscle mass with a rigorous cardio regimen through an hour of basketball every day. The intense cardio can sometimes lead to the muscles feeling on themselves, so while I was burning fat and keeping weight steady, I was also running on a treadmill where gaining muscle mass is concerned. I needed a way to break this cycle.
Along came the July issue of Muscle & Fitness Magazine. The magazine is devoted more to hardcore bodybuilders, but it contained Month One of the Rock Hard Challenge, where a specific pair of muscle groups are worked on a four-day per week lifting schedule. On off days or after lifting sessions, cardio sessions would follow where you try to reach 70% of your heart rate maximum. The lifting sessions follow a carefully documented log, which you would keep as part of their competition. Once you have month one done, you send in your log along with your before and after pics. Do the same for month two, and after month three, you are eligible to win $2,500. So I thought: "what do I have to lose?"
I started working on month one after returning from the beach with the kids. I have been faithful to the log, but the diet has been harder to keep to on a religious basis. I know what the calorie, fat, and carb contents are for most foods, so I have been trying to consume six small meals as I go through my day and keep up with a protein shake before and after lifting sessions. These add on the calories, but with the increased load on the muscles, they need food to help repair and grow. Reducing carbs and sweets is the most important method of weight management for me. So, month one is done, and I started month two today. The lifting program can be seen in a PDF file at the Muscle & Fitness website. At right you can see some of the moves that I put to use on a typical "Delts, Calves, and Abs" day (Day 3 of the program followed over four weeks). The challenge is to load up slightly more weight than what you did the last time you did that day. If you achieve that higher weight level, you should see progress in decreased body fat and increased muscle mass. At the end of September, the challenge is over, but I will have "broken through to the next level," as Muscle & Fitness puts it.
Cardio has been a little more challenging for two reasons: I am teaching at a different school this summer, and we start earlier. so I had to skip basketball for the first week. Another basketball crew was formed at my summer school, and they started running at 6:00 AM so we could still get in a number of games totaling 90 minutes of play. I knew going in I could make a good first impression and not be the geek on the court, an image I had to fight when playing with my original crew. Too bad I could only hit one shot during my first two games out of about fifteen attempts. Successive games have proven better in terms of percentage of shots made successfully. On defense, I was able to contribute to wins for my team. But winning in basketball for me is a secondary goal. Moving continuously for sixty to ninety minutes is why I am there since it is my primary method of cardio. I am looking forward to returning to my regular school and playing with my standard crew in August.
Last Sunday led to me an excellent round of Ultimate Frisbee in Frederick's Baker Park. I had already lifted for the day and put in twenty minutes of basketball practice in the driveway. I found a crew of almost twenty twenty-somethings who play from 7:00 to 11:00 PM every Wednesday and Sunday. I got in on the first and second game and proved myself worthy to those who run the game that they want me on their team. Numerous assists, scores, blocks, and interceptions showed them that in spite of my age, I can still run with the best of them. I had a certain glee when I was able to say to one of them that I had been playing Ultimate before he was even thought of.
It's always good to place fitness goals in the future so you have something to work for. As I start a new school year, I'll be joining familiar colleagues and meeting new students. I am hoping people who know me will see a fitter, thinner George. New friends will see someone who works hard in all areas of life: fitness, friendship, family, and fun.
Stay healthy,
George
georgecassutto@hotmail.com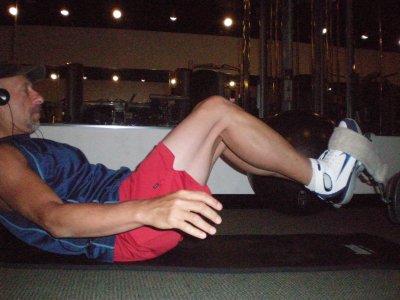 Working lower abs with a weighted crunch. I put a strap around my feet and did 3 sets of 15 reps.