For many people, 2008 has been a rough year. We've all taken a hit in the stock market. 401K accounts show negative signs, making retirement a goal that seems further away than ever. Our home values have dropped sometimes as much as one-third of our home's previously assessed value. Many people have lost their jobs, and supplemental income for those of us who still have full time jobs is hard to come by. Fuel prices took a huge bite out of our budgets both in terms of filling up our gas tanks and in related costs such as electricity and food prices. Toward the end of the year, gas prices have abated, giving back some of the monthly budget that we were paying to the oil companies.
All of these financial and personal struggles add to our stress levels, and they make the chances for exercise and eating right more challenging.

On the positive side, America is entering 2009 with the bright hope of a new administration. No matter what your political affiliation, the incoming team of leaders in the Executive Branch of government has the potential to bring about much-needed changes in our economy, our educational system, and in America's foreign policy. As our nation turns the page on the previous chapter and begins to write a new one, we can do the same in our personal and professional lives.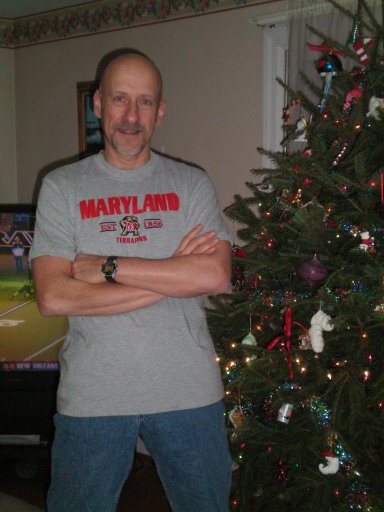 George Cassutto, Christmas 2008


As I said before, "fitness" is as much about mental, emotional, and spiritual conditioning as it is about physical conditioning. Attitude makes up a good part of what you think of yourself and your determination to improve in terms of body image or even in how you are perceived by family members and co-workers. I just came off of one hour of some of the hardest basketball playing in which I have ever engaged. I wanted to contribute to my team's success, but I also wanted to push the edge of the envelope on my own physical capabilities. I contributed eight points over the stretch of 4 or 5 games, including two three-point shots as well as a number of defensive plays that helped make the difference. If I have made improvements in anything regarding sports or fitness in recent years, it has been in the area of "basketball IQ."

When I started playing basketball in 2003 with the community members and teachers before school, I did not even know where to stand when playing defense. I can now honestly assess my own skill level as on par with the average of the other men with whom I play. Through determination, consistent effort, and with a little help from my friends, basketball has become one of the most enjoyable ways to exercise for me. I was not deterred by anyone else's negative impression of my skill level, nor did I let injuries stop me from returning to the basketball court. I just kept trying my best, and these small successes have contributed considerably to my efforts in keeping weight down, reducing abdominal fat, reducing cholesterol levels, maintaining emotional stability at home and at work, and increasing overall fitness levels.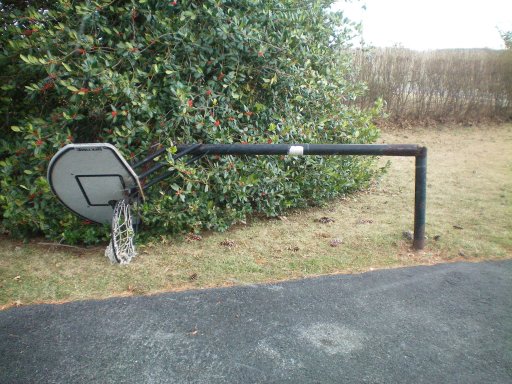 As I am writing this entry, a high wind advisory has been issued for my area. Sustained winds of over 35 MPH are raging outside with gusts up to 60 MPH, and the basketball hoop which has served me since I moved into my house in 2000 just snapped in two. Not a good way to end 2008. But I remain undeterred. I will replace that hoop with a new one (and hopefully, homeowner's insurance will cover it, but I doubt I will have reached my deductible). Writing in this wind storm is also a challenge because I have already lost power once. So I may need to wrap this show up. That's why I hit "save" often.
The battle against weight gain continues as I move into the second half of my 48th year. As you look over the past journal entries, you can see that I am neither losing nor gaining weight, but my weight lifting levels continue to improve.
Such a ratio leads me to believe that I am holding steady on overall fitness levels. I'd like to break through the 170 mark in the area of weight loss while adding lean muscle mass, so if I did make a resolution for the new year, that would be it. Included within that is to work on basketball skills, speed, shooting percentage and defensive skills while reducing the chances of injury to a minimum.

Sometimes I have to take a step back to see the arch of my life and where it seems to be leading. Marriage, family, divorce, and regeneration seem to be the major themes of my adulthood. I am thankful for all the blessings God has bestowed upon me: a rewarding profession, a loving family, and even a girlfriend, Karen, during the last six months.
It seems my fitness efforts over the past six years of being single have produced positive results in the area of relationships. Having a steady girlfriend adds motivation in the area of fitness -- no longer am I getting fit to attract someone, but to keep her interested in me physically and emotionally. My own exercise programs gives me confidence and adds to a positive self-esteem that can easily be hindered by insecurity, negative body image, and memories of being ridiculed for being overweight. She is not my only motivation, but along with family, work, and health, my new significant other plays a major role in why I play, lift, and watch the carb and calorie intake.
Well, 2008 is drawing to a close, as is this installment of George's Fitness Journal. I hope you come back in the future and look around. Maybe you can find some motivation, get some good tips, or just keep in touch. May you experience success in all you do, inside and outside the gym. Happy new year!