Hello and welcome to the Student Violence Reduction Resource Center
Please feel free to browse through the site as well as the links labeled through the page. We hope you enjoy the page. Send us any comments through E-mail about the page.

---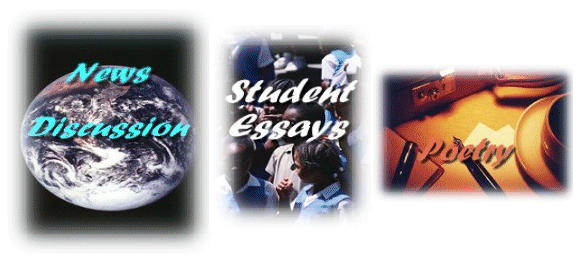 ---
Here is a message from Mr. Cassutto, former teacher at North Hagerstown High School
---

Discovery Channel: No Easy Answers on Hate & Violence (Lesson Plans)
The Million Mom March Foundation
Teen-violence.com
Teen violence statistics
Teen violence in America
Prevention of violence
Organizations Responding to Hate Violence
Artists Against Racism
Hatewatch: A Flagship anti-racism web site
Race Against Racism
Worldcom: A Multicultural network for Teachers
The Anti-Defamation League
Mothers Against Teen-Violence
Violence Among Youth & Violence in Schools
Violence in School
Peace Talks
Teen Violence
Stop the Hate
Teen Survey
Teens Battering Teens
Teen's Center
Ten Ways to Fight Hate


Comments by Principal David Reeder
A Letter From the NHHS Counselors
A letter from a teacher on the Colorado tragedy
A Prayer from the Bible Club of Our School
A link to the inside story of Columbine High
A student essay on the fear of education
More to come...
This site was developed and maintained by Danielle M.


---
George Cassutto's Cyberlearning World

[Lesson Plan of the Day] [Cassutto Memorial] [About the Author] [Search] [Civics Lesson Plans]
Last Up-Date

[ 4-25-07 ]