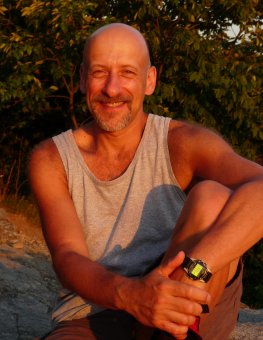 "My Health Care Odyssey"

August 18, 2009.

Weight: 179. The relationship between fitness and good health is well established, but there are times when even people who are considered to be "fit" have to face health related problems. Staying fit is a major mechanism towards preventative maintenance, and when health related problems do arise, bringing a level of fitness to the table can mean quicker resolution of those problems. These ideas are part of the debate over health care reform now underway in the media and in the halls of government, where the shape of reform shall be determined.
My own situation can be seen as a case study in how well the health care system works and to what extent proactive steps in staying healthy can reduce or prevent problems from arising or becoming unmanageable. Back in May of this year, I was identified as having an abnormally slow heartbeat (also called bradychardia). In the process, it was also discovered that my right ventricle does not receive an electrical impulse from the natural pacemaker on the right side of the heart. Rather, the right side receives its impulse from the left, a condition called a Right Branch Bundle Block (RBBB). Once I became aware of this condition, incidences of light-headedness and heart palpitations became more frequent, so my cardiologist scheduled a nuclear stress test, where radioactive dye is injected into the bloodstream to show heart functioning under physical stress such as exercise on a treadmill.

In preparation for today's test, I had to foreswear all forms of caffeine since this stimulant can have an effect on the results of the test. I will admit that the past 48 hours have been a virtual hell for me, as I experienced all the classic symptoms of well-established caffeine addiction. After 12 hours of skipping my usual morning coffee, I experienced a severe but generalized headache. I lost all sense of energy, causing me to go into multiple naps in one day of two hours in duration. I lacked any energy needed to work out, and the thought of lifting with a headache was a strong deterrent to doing any sort of strenuous exercise. I showed up for Monday morning basketball, but as though the Universe was saying "not today, George," no one else showed up that day. I did get about 20 minutes of biking in the night before the test, and I was proud of myself for getting that far. But the night was filled with discomfort and lower back pain that radiated into my hamstrings. I wasn't sure what caused that level of severe pain, but it was enough to wake me up every two hours, which made getting up for today's stress test both a relief and a burden.

My resting heart rate seems to average around 50 to 55 beats per minute (b.p.m.). The cardiologist wanted to see how well my heart responds to exercise. If I did not hit the target rate, medication or even a pacemaker might be called for since the heart needs to react to increased physical demands. First, my starting blood pressure, was 120 over 80, pretty much a perfect reading. Then they injected me with the radioactive dye and made me drink cold water. A set of CT scans of my heart were taken before and after the treadmill section of the test.
The treadmill section was like a good but short workout. Every several minutes, the nurse would raise the level and speed of the treadmill. I stayed with the pace without complaint or issue. She let me know where my heart rate was as we proceeded. First I was up to 90 b.p.m., then to 120. At the final stage, I reached 145, the target rate, with no problems. She slowed it all down as I cooled off, but I had not even broken a sweat at that point.
After the second CT scans were done, I chatted with the nurse about the health care debate now underway. The nurse said "I hope the government doesn't get involved." I said, "yea, I have great insurance through my school system, but there are so many people that aren't so lucky." I left it there since I did not want to get into a major debate right there in the cardiology center. But I was surprised those on the front lines weren't more sympathetic to the need for reform of the health care system.
I'll post what I can about what the cardiologist reports when I get the call. The next step involves getting a colonoscopy before school starts in late August. This procedure will be even more challenging and invasive. I will be sure to skip all the details, but it will be interesting to see how well the health care system moves me through the process in its current state.
P.S.: My apologies to those readers who are thinking "too much information, George." Nevertheless, there are many people who can benefit from my experience, so I'll continue to share my health care odyssey, but I'll be sure to do so in a tasteful and appropriate manner.
P.P.S.: To those who care about my health and are advocating abstinence from caffeine from this point forward:
Here is what I posted to my Facebook wall in response to those lobbying for me to become fully caffeine free:
I discussed caffeine consumption with him (my cardiologist), and he said it was within norms for most people. What I learned was that caffeine can enter the system in forms not suspected, such as tea and soda (those I knew) and chocolate as well as certain analgesics. So many who try to quit don't experience withdrawal because they compromise the abstinence with these other sources. I will be wary of my caffeine consumption, but I am not dropping coffee completely.
I weight the risks of coffee consumption with the health benefits. Please check out this article before you shake your head ruefully and call me an addict.
Web MD: Coffee: The New Health Food?
Sorry if I disappointed you.
Until next time,
George
georgecassutto@hotmail.com