"Surviving the Blizzard of 2010"

Wednesday, February 10, 2010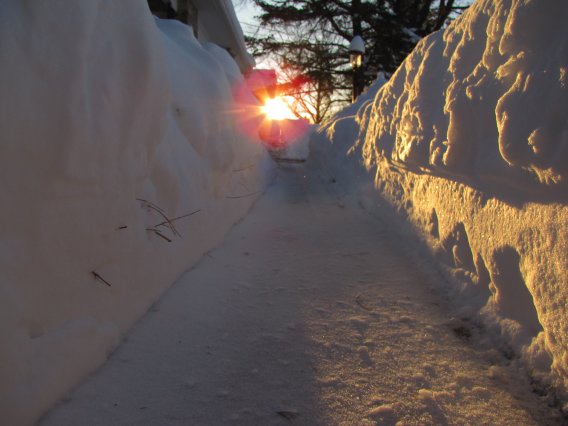 Weight: 175. As I write this journal entry, the mid-Atlantic region has been experiencing the most severe winter in living memory. We are in day #5 of back-to-back snowstorms. The first one, which descended on us this last Friday, February 5, and lasted until Sunday, dumped about two feet of snow on the national capital area, closing schools, shutting down government and crippling commerce. State crews were able to clear the major arteries enough to allow citizens to stock up for the next installment - the real blizzard of 2010, where hurricane force winds were coupled with 2 to 3 inches of snow per hour and sub-zero wind chill factors. Power outages have been widespread throughout the region for the past five days, but my house, fortunately, has not lost power.
The narrative of these past few days is one of physical and emotional challenges. During the first storm, my kids were at their mom's. The solitude was enjoyable, but since I was stuck in the house for an extended period, I longed for their company. They joined me the evening of Sunday night, well before the second storm arrived late Tuesday. I had to have oral surgery on my gum so that a crown could be applied later in the month. Working out or any strenuous activity was out of the question by doctor's orders after the appointment. The doctor told me to take it easy and apply ice on my jaw to keep the swelling down. Ibuprofen would help do the same and fight any pain I might have experienced. So weathering the storm and going through the recuperation process could be a double challenge. I had to keep my diet to soft and liquid items, so a protein shake for lunch and some Maryland crab soup for dinner were the order of the day. Since I was not being active, a reduced calorie intake for the day would help stabilize the scale for this time period.
| | |
| --- | --- |
| Before the surgery, I had about two days of snowfall to clear from my walk- way and driveway. I had heard about instances like this where middle-aged men took on too much shoveling, which led to heart attacks and even death. So I told myself that once the storm clears, I would start on the driveway, but I would take my time and go slowly. If I felt sore, I need to take a break. Other important tips about shoveling came to mind: 1. lift with.your legs rather than your back. 2. Throw the snow from the shovel to the space in front of you rather than twisting around to drop the snow. 3. Don't drink coffee before going out as it restricts blood vessels. Except for the last one, I did pretty well. I felt sore after three hours of shoveling, but in a good way. I did the three hours over the space of one day. Even after all that, I only made it about one-third to the end of my driveway. Each shovel scoop required four scoops to get to the pavement. That meant that I would have done the driveway four times to get it all done. I knew it was all too much to accomplish by one person in one day. I was ready to call it quits when my neighbor, Mr. Bob, came over with his snowblower. He completed in 15 minutes what it might have taken me another eight hours to complete by hand. Without him, I would have just been finishing the task when the next storm was expected to hit. I said to Bob as he finished the driveway, "you might literally be a lifesaver." | This section represents two hours of shoveling. |

I admit to being less than completely active during the period where the blizzard has kept me indoors. Moreover, there is a great temptation to eat out of boredom or out of insecurity as the storm rages around the house. During more sendentary periods, I think it's a positive step to watch caloric intake to compensate for the reduction in physical activity. Some argue against weighing onself on a daily basis claiming that there can be a compulsive element to it. I have been weighing myself every morning for eight years or more because it either rewards me for being disciplined or it warns me that I need to apply discipline throughout the day. Still, it is possible to get a workout in even when the weather outside is frightful.

Here is the driveway hoop during the blizzard of 2010.
It may be some time before we are reunited.

About one month ago, I came down on my elbow during a basketball game. My elbow was fine, but my right rotator cuff took the brunt of the fall, and it was painful to lift any weight with that arm. Even running or passing the basketball caused discomfort. Since then, I have taken a break from lifting weights. The time is coming near when I will start at my base resistance level and just start over. The body responds positively to such a restarting because it initiates a muscle confusion process that the P90X people like to say is the secret to their success. Once your body gets used to one plateau, it's time to change it up and challenge it with something new. I have the P90X materials, so if I want to set up an indoor workout for myself ins pite of the weather, that's one way to do it. Simple calestenics would be another approach. Using your body weight in the form of push-ups, jumping jacks, and triceps presses are all good ways to burn calories and get some muscle tone without weights or other equipment. Running in place, up and down the steps, and on a treadmill or elliptical are great ways to get in cardio even when you don't want to bundle up and brave the elements. Now that I have listed these options, the trick is for me to choose one and do it!
No one is running the court at school this week. I am hoping we'll be back to school on Tuesday after the President's Day holiday on February 15. That's almost one week from now, so I know I will have to put some sort activity into my daily schedule. One or two weeks of inactivity will make an hour of basketball next week all the more difficult. My fellow basketball players wanted me to mention their skill at shooting and defense on this blog, so there you go! I am always learning about the intricacies of basketball during our games. One thing I have learned is that I can keep up with the best of our players. As I have been told by one of our players, "it's a physical game." But it's as much a game of mental fortitude, personal leadership, and communication as it is physicality. Athleticism involves effort, daring, and hustle. Those are the ideals I strive for on and off the court.
Well, it's back to watching the wind and the snow blow around the house for another twenty-four hours.
Until next time, stay healthy!
George